Description
INTRODUCING THE HOTTEST & MOST POPULAR HIT ITEM….
1 SOLD IN EVERY 3 SECONDS!!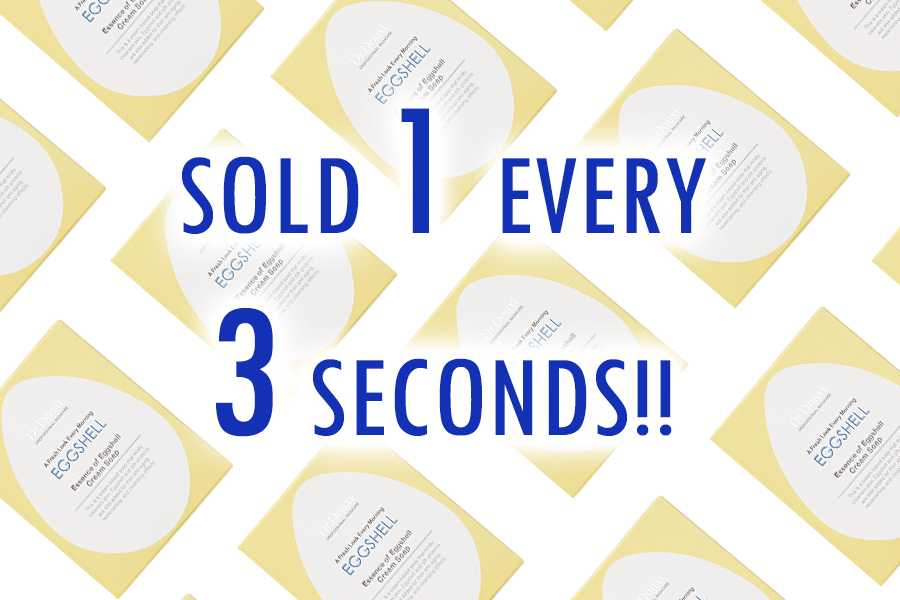 *EGGSHELL CLEANSING SOAP BAR*Travel Size 27g
YES, IF YOU ARE LOOKING FOR A SOAP THAT CAN REMOVE ALL YOUR IMPURITIES ON YOUR FACE, YOU ARE ON THE RIGHT PAGE!!!
1) ESSENCE OF EGGSHELL SOAP BAR
MEANT FOR?NORMAL,?OILY?&?COMBINATION?SKIN TYPES

NOW, SHALL WE GET THE GIST OF THIS EFFECTIVE ESSENCE OF EGGSHELL CREAM SOAP?
_ ANTI-AGING
_ HYDRATING
_?REPAIRING


CREAMED BASED TEXTURE FOR A SOFT & SMOOTH BABY LIKE?FACE!
_ ULTRA MOISTURISING
_ ULTRA GENTLE FOR YOUR SKIN
_ ULTRA?CLEAN, ZERO IMPURITIES
SO GOOD?
SO MANY BENEFITS!!!!

TESTED TO BE SUPER EFFECTIVE!!

NO MORE!!!!!!
_?DRY SKIN
_?DULL SKIN
_?OILY SKIN
_?COMBINATION SKIN
_?BLACKHEADS & ACNES!!
Ingredients:

Distilled Water, Glycerin, Sodium Cocoate, Propylene Glycol, Sorbitol, Sodium Myristate, Sodium Stearate, Sodium Laurate, Sodium Palmitate, Sucrose, Sodium Chloride, Hydrolyzed Silk, Euphrasia Oddicinalis Extract, Melissa Officinalis Leaf Extract, Magnolia Biondii Bud/Flower Extract, Chamomilla Recutita (Matricara) Flower Extract, Titanium Dioxide, Alumina, Triethoxycaprylylsilane, Hydrolyzed Egg Shell Membrane
STILL UNSURE WHICH ONE TO SELECT?
LET US TEACH YOU….

HOW TO USE THIS SOAP BAR?
CURIOUS HOW ARE THESE SOAP BARS MADE?
THEY ARE ALL MADE WITH CARE TO PRODUCE THE?BEST EGGSHELL CLEANSER SOAP BAR?FOR YOU!!!!
LOOK AT WHAT HE SAID
"ONE SOAP THAT RESOLVES ALL ISSUES!"

POPULARITY HITS TAIWAN & WENT OUT OF STOCKS!!
CRAZILY LOVED & ADORED?BY MANY TAIWAN CELEBRITIES!!!!
SO WHAT EXACTLY IS EGGSHELL CLEANSING SOAP?
LET'S REVEAL THE SECRET TO YOU NOW!
IT CONTAINS ALL THE ESSENCE IN THE EGGSHELL!!!
HUH LIKE THAT ONLY?
OF COURSE NOT!!
THERE ARE TONS OF SKINCARE BENEFITS?IN EGGSHELLS!!!
_REGENERATE SKIN
_ PREVENT WRINKLES
_ INCREASE MOISTURE CONTENT
_HEAL INFECTIONS
_ PROVIDE RADIANCE
LOOK AT THE DIFFERENCE!
STILL DON'T BELIEVE?
SEE, IT'S ALSO?BROACASTED ON TV SHOWS LIKE _____ & ____
JUST NEED 15 SECONDS TO ACHIEVE SMOOTH & PERFECT SKIN!




RESULTS CAN BE SEEN DRASTICALLY~
ALSO BLOGGER'S FAVOURITE CLEANSER!!!!!




EGGSHELL CLEANSING SOAP CRAZE AMONG BLOGGERS~
MOISTURE LEVEL UP UP UP!!

CLEANSING ABILITY TEST!


AFTER USING THE SOAP BAR, IMPURITIES VANISH!
*WE HAVE DIFFERENT SOAP BARS FOR YOU*
3 Types of Soap Available!
Scroll below to find out more!!