Description
Skin Toning Lotion
One of Dr.Douxi's?Top Selling?Product!
A toner that improves on skin tone & skin texture for a clearer, brighter & smoother skin.
It helps people with troubled, dull, dry/oily skin problems!
Calming . Brightening
Astringent . Hydrating
This toner consist of the main ingredient which is…
Barley!
You might not know that
actually barley has?a lot of beauty benefits?to our skin!
1. Contributes to Healthy Skin
Barley is packed with vitamin C, antioxidants, and minerals. All these are excellent for your skin. It has been proven to reduce inflammation in the body. You know the expression: healthy body, healthy skin.
2.Has Healing Properties
Barley is rich in zinc, which promotes healing.
3. Improves Skin Elasticity
Barley is rich in selenium. Selenium preserves skin elasticity. Selenium also improves many functions in your body, which are often reflected by your skin.
4.?Creates Pleasant Skin Tone
Barley tightens skin and eliminates toxins, making your skin silky and pleasantly toned.
5.?Has Anti Aging Properties
?The antioxidants in barley help make you look younger. Barley helps to eliminate toxins from the body, giving you the appearance of younger and healthier skin.
Besides Barley, it also consists of?Hyaluronic Acid?which hydrates your skin!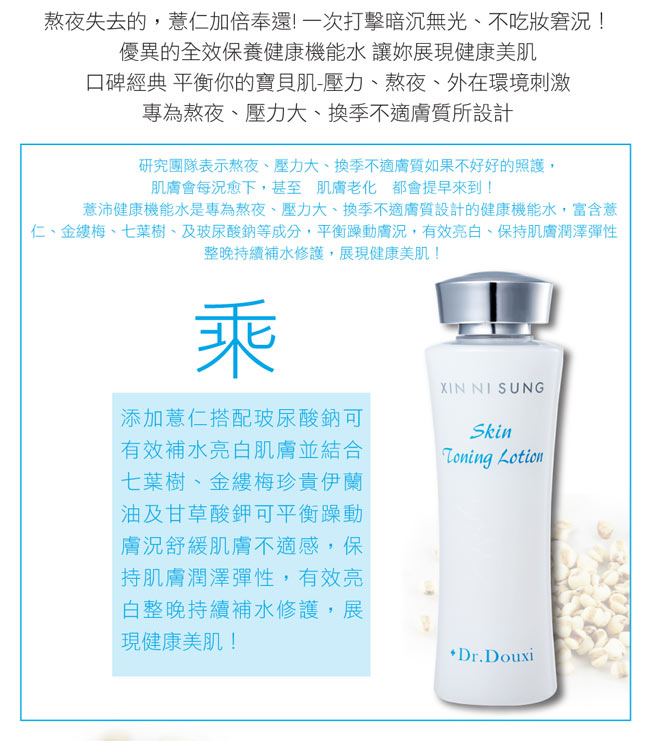 ONLY?30 Seconds!
1. Moisturizing
2. Whitening
3. Brightening
What's so special about this toner?
_?Improve on?dull?skin
_?No more?cakey?makeup
_?Calm & Condition?skin
_?Regenerate?skin
_?Deeply?moisturize?skin
_?Clears?skin impurities
What's the most important skincare step?
Ans:?Moisturizing!
When your skin is deeply moisturized,?all your skin problems will be improved!
Resulting in a?soft, smooth, bright & a good complexion!

Then what about?oily skin???
You may be thinking,?oily skin = too much moisture
BUT NO!!!
The cause of oily skin is the?lack of moisture?in the skin.
And that's why your skin starts to produce more oil!
So, if you want to get rid of oily skin, make sure you?give your skin sufficient moisture!
Start with a toner first!
Dr.Douxi Skin Toning Lotion?is definitely worth the try!
You will love it!
It helps to balance moisture & oil of your skin, and tightens the pores!
Loved & Adored by many!!
SKIN TONING LOTION
It contains pearl barley, hamamelis, aescullus, hyaluronic acid, etc. These ingredients can?soothe,?lighten, astringe?and let skin?maintain moisture. It helps with?brightening?and?vitality?as well.